Today Microsoft announced the much anticipated competitor to Slack called Microsoft Teams.
At the core Teams is all about lightweight team to collaboration spaces that include in persistent chat, docs, notes, instant message, video calls and more. It really brings together many parts of Office 365 into one experience and is simple and easy for users.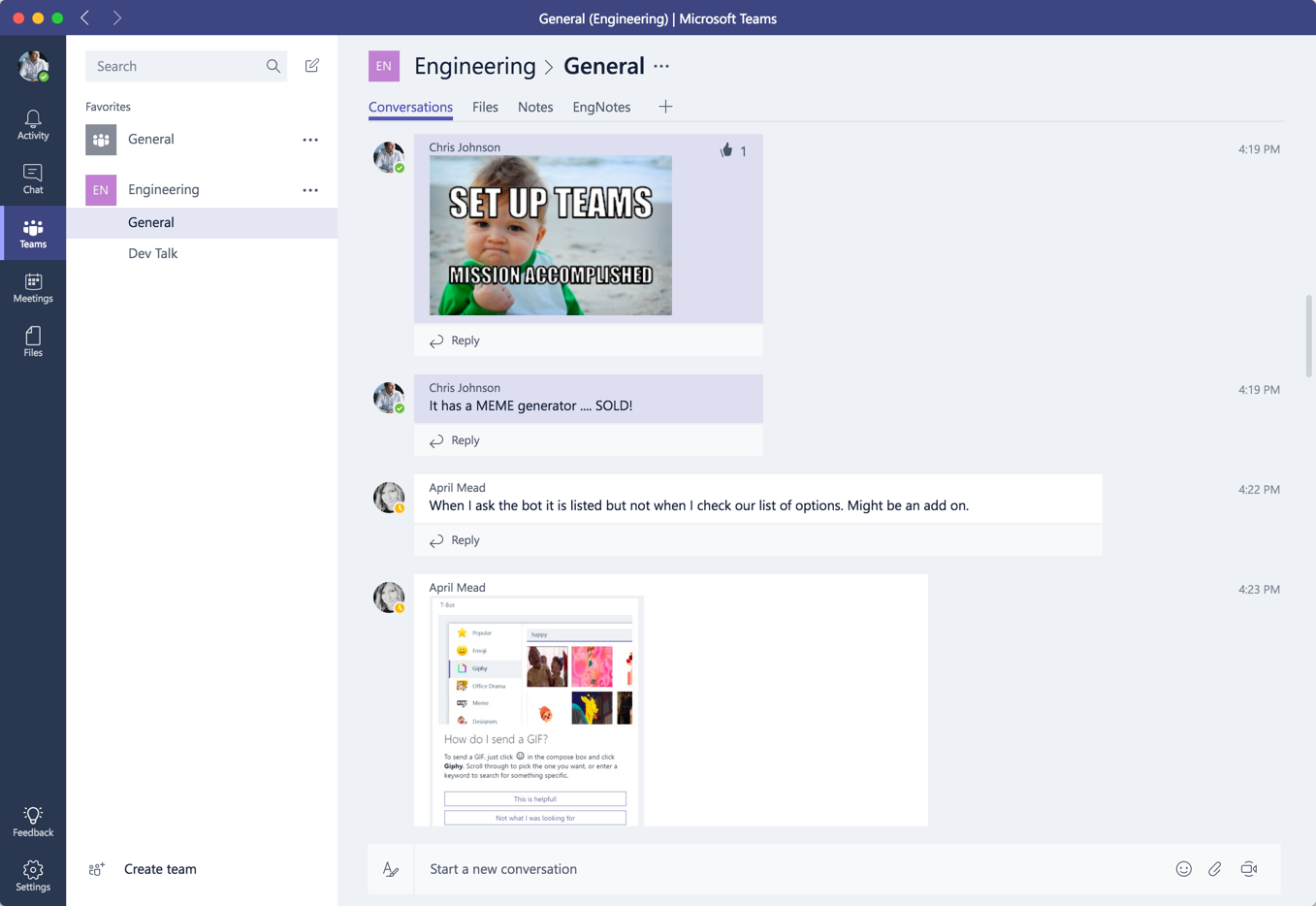 Why is this so important for Office 365? Well, in short, Microsoft has had all these pieces of technology for many years but has not brought them together in a cohesive application experience for users …. Until now.
I'm excited about Microsoft Teams! For some time many have marveled at Slacks simplicity and therefore friction free collaborative experience, but winced at having to manage, purchase and integrate yet another application. Teams is baked into Office 365 and it comes for free. Is it as good as Slack? We don't know yet. It's only in preview currently and only time will tell. But it's off to a good start.
Reliance on people profile data is more important than ever
Virtually all the new experiences going into Office 365 have people at the center of them. Microsoft Teams is no different.
People are at the center of Microsoft Teams. However, to get the best experience in Teams, and to make it as compelling and interesting as the demos suggested, you must have great people profile information.
Org charts
Take for example the org chart they showed in the demo. Looks great and gives you all the information you need to know when looking where in the organization someone sits. It's also interactive and you can navigate around etc…
But 75%+ of companies don't have the org structure data needed in Office 365 to power this feature!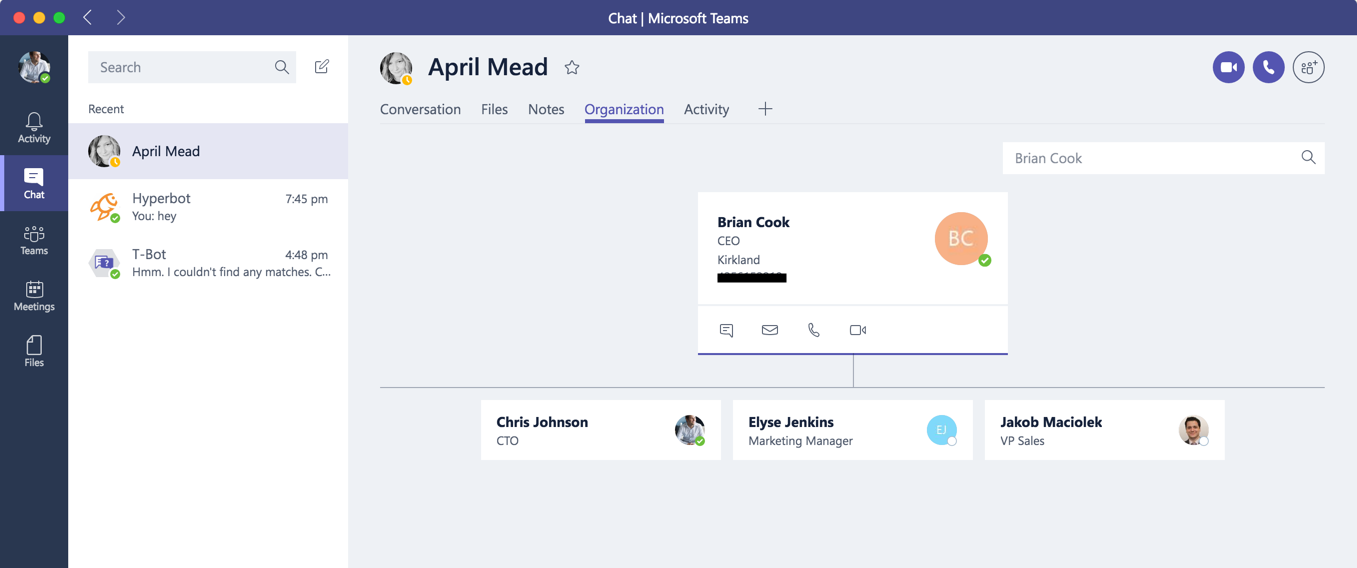 Photos everywhere
Or take the photo thumbnails that show everywhere to help you connect with the person you are IM'ing with and make it more personal.

Those photos come from Azure AD and Office 365. If you don't have your users profile photos in AD then chances are you will be getting a subpar experience in Teams.
Bots and automation
WhoBot was another example of how people profile information is powering new experiences. WhoBot is a chat bot that lets you look up people in the organization based on their name or skills for example. Again, all this is driven from people profile information in Office 365.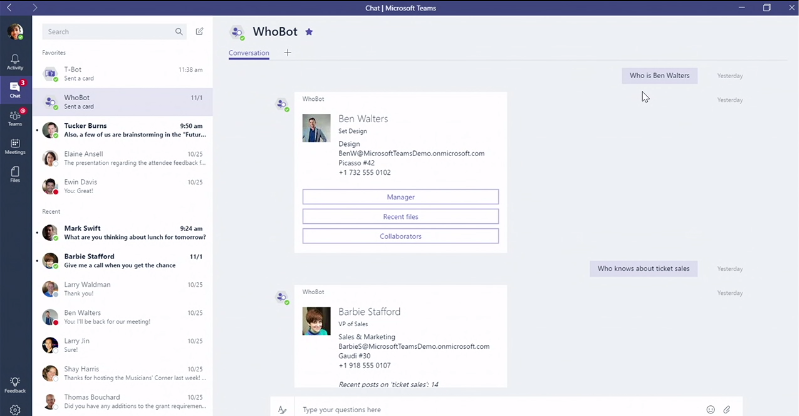 So what if you don't have great profile data?
Most organizations don't have great data in Active Directory, Azure Active Directory or Office 365 profiles. So don't worry, you are not alone 🙂
This is why we created Hyperfish to help organizations understand their profile data and then complete or fix the missing or incorrect information.

Our mission is to make experiences like Microsoft Teams, Delve, people search experiences everything they should be with complete and accurate profile data.
If you don't know what how good you profile data is you can try our free analysis app! It support Active Directory on-premises as well as Azure Active Directory / Office 365.

Try it out here: https://app.hyperfish.com
If you want to fix your data you can have Hyperfish reach out to users through email or IM to gather it from the folks missing data. e.g. missing photo photos, incorrectly formatted phone numbers, non-standard addresses, non-standard job titles etc… Learn more here about the full Hyperfish product: https://hyperfish.com/
At Hyperfish we are pumped about Teams! The preview looks great and we cant wait to see what else comes as part of it before it is due for release in Q1 of 2017.
We hope you enjoy these new capabilities and get in touch if you need a hand with keeping your people profile data clean and up to date!
-CJ